There are a lot of things that make New York vs Los Angeles two of the most exciting cities in the world. They're home to the best art, culture, and food. They both have vibrant nightlife scenes and bustling tech industries. And they're both packed with tourists who want to see all the sights before they grow old.
But when it comes down to it, some significant differences between living in these two cities can affect your quality of life. And ultimately, how much you enjoy your time there. To find out what those differences are and whether one city is more suited for you than another, then read on.
LA vs NYC: Lifestyle
First, let's talk about lifestyle in LA vs NYC. If you want to live in a city known for its busy lifestyle and nightlife, then New York City would be the place for you. The city has plenty of museums, galleries, restaurants, and clubs and an active nightlife scene.
If you are looking for things to do outside of work or school, the Big Apple offers plenty of options, such as sporting events, concerts, and plays. However, if you are looking for a more laid-back lifestyle, then Los Angeles may be your best bet.
In Los Angeles, most people spend their free time outdoors at parks or beaches rather than in clubs or bars at night. So there isn't much of a need to live in big cities like Los Angeles unless it's something that feels right for them personally. In addition, these big cities are known for their food scenes which means excellent places to eat no matter where you go.
NYC vs LA: Job Opportunities
New York City might be your best bet if you're looking for a job in the finance or local business sectors. The city is home to over 980 hedge funds and an impressive 75 foreign banks. In addition, it has a large concentration of advertising agencies, accounting firms, and law firms, all of which pay well. Likewise, Los Angeles offers plenty of opportunities in these areas but doesn't have as many options as NYC vs LA.
However, suppose you're more interested in working for the entertainment industry or technology startups. In that case, Los Angeles has a much higher density of jobs than upstate New York City. Both NYC and Los Angeles are home to major film studios. Still, Los Angeles has more television production studios as well, and far more startups are located here too.
Los Angeles vs New York: Cultural Communities
Both Los Angeles and New York are culturally diverse cities. However, you will see some differences in the types of cultures represented in each city. New York City is located on the United States's east coast, meaning that most immigrants come through Ellis Island or JFK airport before landing in Manhattan.
As such, a higher proportion of its minority populations are immigrants from Bangladesh and Africa (especially Nigeria), representing larger immigrant populations than the rest of the country.
On the other hand, Los Angeles vs New York is home to many Polynesian communities, such as Tongans, Hawaiians, Tahitians, Samoans, and more.
Los Angeles vs New York: Tourism
Both Los Angeles and New York are known for tourism. They are considered two of the most visited destinations in the United States. In fact, the Big Apple is one of the top tourist destinations in the world. It's not hard to see what draws people to both locations. They're filled with cultural amenities, performing arts venues, museums, and other attractions that appeal to a wide range of tastes.
Los Angeles has its share of these attractions as well, but it also boasts more natural beauty than upstate New York City does (although there are several parks). Whether you want to go sightseeing or explore nature, either city will give you plenty of options for doing so.
Los Angeles vs New York: Recreational Activities
If you're looking for a city that offers a wide variety of recreational activities, Los Angeles is your best bet. The city's climate is perfect for outdoor activities like hiking, biking, and running. It also has many beaches and parks where you can relax with friends or family.
New York City isn't as ideal for outdoor activity enthusiasts. However, it has many museums, galleries, and theaters open to the public through discounted tickets or free admission days.
Los Angeles vs New York: Nightlife
Nightlife in Los Angeles and New York is a topic that comes up pretty often when you're talking about the two cities. Both NYC and Los Angeles are incredibly famous for their nightlife scenes, and each city has a distinct personality regarding clubs, bars, and other venues.
Los Angeles is known for its party scene and the people who come to it. It's where celebrities hang out, models go out with their friends, and everyone's always looking to have a good time. The nightlife here is low-key but exciting. You might catch a glimpse of someone you recognize, but you're more likely to have fun dancing with your friends than running into anyone famous.
NYC wins in terms of nightlife's intensity. If you're looking for an upscale club or restaurant experience with all the bells and whistles that go along with it, you'll find it in Manhattan.
Los Angeles vs New York: Food
If you're a foodie, then you know that two cities in the United States are considered to be the world's culinary capitals: New York vs Los Angeles. Both cities have their own unique eating style, and both have their own food staples. Here's how they compare:
New York City's cooking style is often described as New American or Neo-American. This means it's not necessarily trying to be strictly traditional or authentic. But instead, it uses the best cooking methods from around the world (mainly French) to create new dishes. The focus is on high-quality ingredients and a high level of service.
On the other hand, Los Angeles has more of a global style of cooking than New Yorkers do. It uses ingredients from all over the world. It combines them creatively with traditional techniques and flavors from Asia, Europe, Africa, and South America. It also puts an emphasis on freshness and simplicity in its dishes.
Los Angeles vs New York: Local Economy
Suppose you're in the market for a big city with plenty of job opportunities. In that case, Los Angeles and the Big Apple offer similar experiences. These two cities have local business economies that provide a range of employment options.
In terms of financial services, the Big Apple is still home to Wall Street and other major corporations. Meanwhile, Los Angeles has become an important center for movies and television production and music recording studios.
There are also some differences between the local economies. While these two cities are known for their entertainment industry (and tourists), New York has traditionally been a financial center. Conversely, Los Angeles is seen more as an entertainment capital.
This has led to some interesting effects on their respective housing markets. While house prices in these cities can get very expensive depending on their location, you'll find much lower rent prices outside those zones.
Los Angeles vs New York: Weather Condition
In terms of weather, Los Angeles wins hands down. The overall climate in California is downright ideal, with temperatures hovering around 70-80 Fahrenheit year-round. There's no natural spring or fall either; you won't have a cold winter or hot summer. The city has a Mediterranean climate with mild winters and warm summers, perfect for those who don't like extreme temperatures.
On the other hand, New York City winters are brutal, and the summer humidity is real; you will sweat constantly. In fact, even when it isn't that hot outside, you'll still feel like sweating because of how humid it can get. Temperatures range from high 90s Fahrenheit to low 50s Fahrenheit, so prepare for temperature swings if you live here.
Los Angeles vs New York: Public Transportation
Public transportation is one of the best ways to get around a city. Los Angeles and New York have excellent public transport systems that everyone can utilize. However, there are some significant differences in how they utilize public transportation.
New Yorkers use multiple transportation forms to get around town, including buses, subways, taxis, and many ride sharing services like Uber and Lyft. The subway system in New York vs Los Angeles is undoubtedly efficient. It's extensive and covers most areas of Manhattan.
The overcrowding during rush hour can be horrible and smelly because all those people are packed together in such a small space for long periods. Public transport may be a similar factor that can be noticed in Los Angeles, which makes the traffic in LA notoriously bad.
LA and NYC utilize many ride sharing services, so if you want guaranteed availability without having your own car. Then this would be one way around having a vehicle while living there (or instead having access to one).
Los Angeles vs New York: Car Ownership
If you're a Los Angeles native, then you know that owning a car is pretty much a necessity. With traffic being what it is, if you don't have your own set of wheels, then you could be stuck in traffic for hours on end every day.
In New York City, however, there is excellent public transport such as the subway and most bus lines systems to make getting around easy and convenient. You don't need to own a car in NYC unless you want one for leisure purposes (like traveling out of town or visiting the beach).
So if you don't like driving or parking on busy streets but still want easy access to all parts of the city without worrying about gas prices. In that case, living in NYC wins in this category.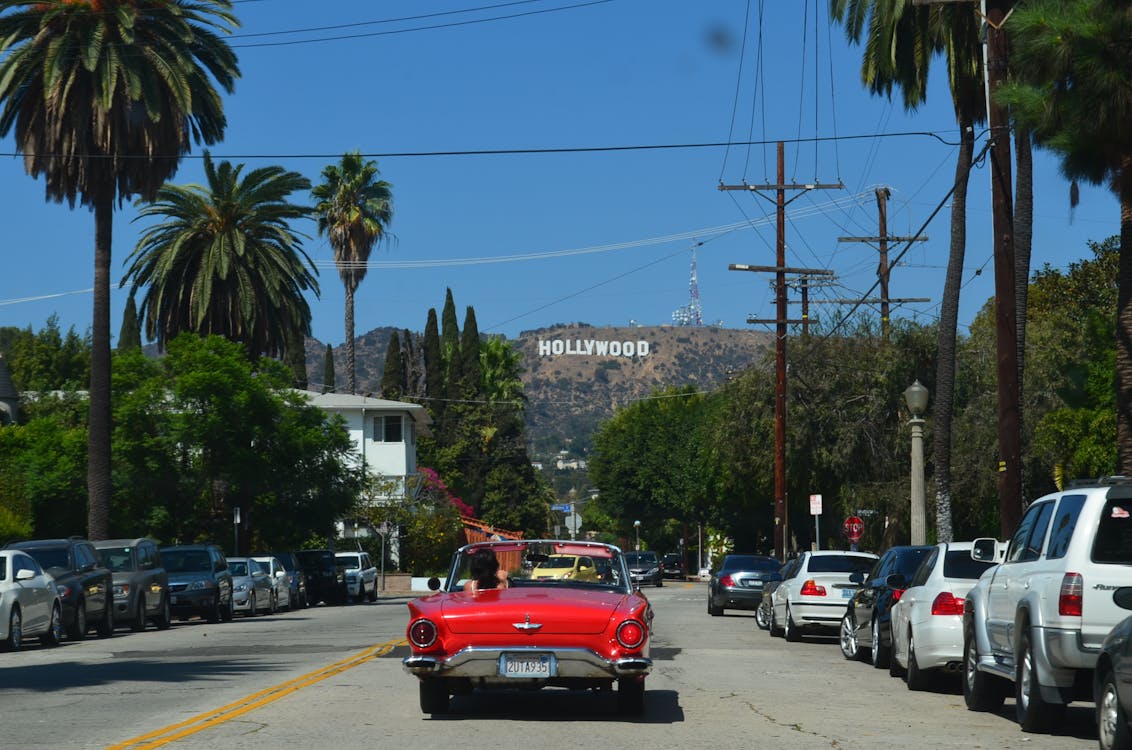 Los Angeles vs New York: Traffic Congestion
In Los Angeles, you can expect to spend more time in traffic than in New York. The city is more spread out than NYC, so if you live in one of the inner-ring suburbs or a more remote area, this can make commuting a challenge.
But even those who live near central park in Los Angeles will find themselves slowed down by afternoon gridlock at least once or twice a week, and that's only for traveling within their neighborhoods. A better public transit system makes getting around Manhattan and Brooklyn easier. In fact, many New Yorkers wouldn't consider moving anywhere without first investigating how easy it would be to get into Manhattan from their new home.
Still, others move away from Manhattan specifically because they want to avoid its crowds and high prices while still enjoying living within walking distance of mass public transit options like most bus lines and subways that run every few minutes all day long (not just during rush hour).
Most East Coast Cities vs West Coast Cities: Cost Of Living
The average cost of living varies significantly across the United States, but there are a few cities that stand out as being more expensive than others. For example, New York City is consistently ranked as one of the most expensive cities in the country, and San Francisco has earned a reputation for being an extremely costly place.
However, when comparing most East Coast cities vs West Coast, there aren't many clear winners. In fact, there are just as many cases where the upper West Coast cities win out over their Eastern counterparts as there are cases where it's vice versa. On the Eastern Coast, Boston has higher costs than New York City or Washington D.C.
In comparison, Honolulu has lower prices than San Francisco or Seattle (but higher fees than Los Angeles). On the West Coast, Portland has higher costs than San Diego or San Jose. However, Las Vegas has significantly lower prices than any other major city on either coast.
Conclusion
If you're considering moving to one of these cities, you must know the pros and cons before deciding. Los Angeles and New York are great places to live, but they also have unique challenges. If you're looking for an urban environment with many cultures, then Los Angeles might be proper. But if working in Manhattan is your dream job and you want to live close by, then New York vs Los Angeles may be a better choice.
The bottom line is many factors are involved when choosing where to live. This includes personal preference, finances, and career goals all play into this decision and what kind of lifestyle suits your needs best. And if you're still on the fence about which city is for you, we recommend talking with an expert. HOMES by ARDOR has trusted real estate agents to help you buy or sell a home.
Kris Reid is the CEO of Ardor SEO, a company that helps real estate professionals get more leads and customers to predictably grow their business.
Over the years, Kris acquired extensive knowledge of SEO and its practical applications in various industries, with the main focus on real estate.
In 2021 Ardor launched the Icons of Real Estate Podcast to share proven strategies from the top producing icon agents with the real estate community.
After obtaining the real estate license in 2022, Kris joined eXp Realty and launched Homes by Ardor, the platform that was built to be the fastest way to buy or sell a house. Homes by Ardor also provides leads for its partner companies and realtors.
Profiles:
Buy and Sell Your Property in One Place
Our team of experienced real estate agents and user-friendly platform will help you streamline the process of buying or selling your home